Grow food, grow health, grow hope
Hi, I'm Elizabeth!
I've grown my own food since I was knee-high to a grasshopper, in my family's vegetable garden. I thought that was what all the other kids were doing during summer vacation, too—in fact, I believed that was why teachers gave us the summers off!
Too many people today have lost touch with the earth that feeds us and with the foods that give us health and vitality.
It's a loss you can see everywhere: in screen-based lives fuelled by packaged food, in increasing diagnoses of preventable illness like type 2 diabetes, in skyrocketing anxiety and feelings of helplessness.
The good news is that there is a solution to the modern plagues of disconnection, disease, and powerlessness.
It's as old as the hills, it's homegrown, and it doesn't have to cost the earth.
Yes, it's a food garden!
Here's what time in the garden gives us:
Better physical health: Beyond the high-quality nutrition we get from organically-grown vegetables, gardening gives our bodies an awesome workout in the great outdoors. It's a win-win for our health! Simple garden-based movements like bending, squatting, and digging build flexibility and muscle tone without an expensive gym membership.
Better mental health: Science has shown us that getting in contact with the soil has a calming, antidepressant effect on the human brain. And nurturing plants from sprout to harvest is an innately meaningful practice, reminding us of our role in the cycle of life.
A sense of community: From garden clubs and community gardens to online communities where growers gather, gardeners are generous with their knowledge and are a fun group to belong to!
A way to get the kids outside and active: Parents of non-sporty kids face a challenge when it comes to making sure they are getting enough exercise. These kids may not see the point of running around a field, chasing a ball. Good news, parents! Tending a food garden is exercise in disguise! Pushing a wheelbarrow, digging in the dirt, harvesting vegetables they grew themselves—many garden tasks are a form of meaningful physical activity with a delicious payoff.
A way to save the world: Concerned about the climate crisis? Growing food helps cool the planet: a 2016 study at the University of California found that growing vegetables at home cuts 2 kg of greenhouse gas emissions for every 1 kg of produce grown (when compared to conventionally grown produce). Garden-related activities like making your own compost, diverting rainwater into the garden, and turning more of your lawn into growing space all help, too.
A sense of pride: When you grow it, you know it!
Individuals empowered to take control of their health and their carbon footprint by learning how to grow food.
Cities that prioritize food self-sufficiency.
More community gardens, urban orchards, and community kitchens to teach food skills.
Want to be part of this green revolution?!
I'm a garden teacher and the award-winning author of garden and kitchen self-help books that show you how to create and maintain your own organic food garden.
Whether you're a garden newbie or well on your way to an edible yard or balcony, I can help simplify the process of growing your own food!
What my clients are saying…
"Thanks, always, to Elizabeth Peirce for being my gardening teacher. I was scared to start, afraid to fail, nervous to invest time and money. You helped me see this was a possibility for me and you continue to be a constant source of kind support, accessible info and gardening inspiration."
Vanessa Lindsay-Botten
"Elizabeth is amazing to consult with. She is so incredibly knowledgeable and helpful in her gardening advice. Our session was very comprehensive and she is so generous in providing resources and support. I appreciated so much the summary of our consultation and Elizabeth's attention to detail. I now know exactly who to go to for exceptional and individualized gardening advice."
Lisa Galvez, RD
"Elizabeth can tell a favoured plant from a weed at ten feet, and tastefully remove the offender…. From her fund of knowledge, she can offer relevant suggestions as to how to proceed, from seed selection to harvest preservation.  Elizabeth is friendly and personable. We love having her around."
Sylvia Mangalam
"Elizabeth is the kindest, smartest garden guru you will ever meet. She really knows her stuff and shares this knowledge so generously. My garden is greener since working with her and I feel both more confident and inspired!"
Renée Hartleib
What kind of gardener are you?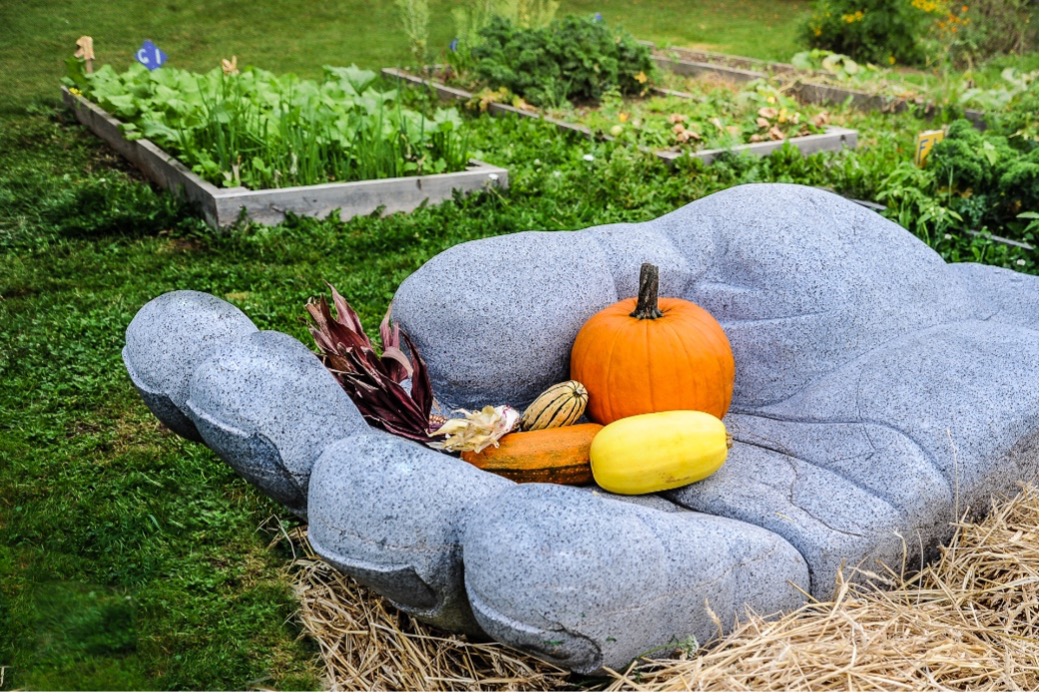 Read my books and get inspired to get growing!
Want to start growing more of your own food? I can show you how!
What readers are saying about my books…
"In her latest gardening book, Grow Hope: A Simple Guide to Creating Your Own Food Garden at Home, Peirce helps readers find the best way to convert a lawn or apartment balcony into a productive garden and provides a how-to guide for anyone interested in growing their own food, simply and cost-effectively."
Alison Lawlor
The Chronicle Herald
"Elizabeth Peirce brings a fresh take on starting a garden from scratch, kitchen scraps, and ingenuity. She sees gardens as gyms, workplaces, and classrooms…"  
Wayne MacPhail
Harrowsmith
"Cookbooks and gardening guides shouldn't make you feel like a useless toad, or make you wish you lived in another city. But Elizabeth Peirce's Grow Organic: A Simple Guide to Nova Scotia Vegetable Gardening is a boost of confidence, even if you've only ever grown mould. Peirce doesn't expect that you know a till from a turnip…."
Sue Carter Flinn
The Coast
"[Elizabeth's] enthusiasm is infectious, and her writing tone conversational and encouraging…
Jodi DeLong
The Chronicle Herald
Are you an aspiring food gardener?
Even if you live in an apartment with a small balcony, I can help you learn how to grow your own food.
My online workshops offer answers to your most pressing garden questions, from starting seeds indoors, to creating an easy first garden bed without backbreaking labour, to preventing insect problems before they start.
And my 1:1 coaching packages give you the skills and confidence to turn your yard or balcony into a healthy and productive food-growing zone.
It's rare that I don't make a couple of batches of homemade salsa duringthe tomato season: for me, it is the most versatile and flavourful ofcondiments and can be used as the basis for many meals. Still, I often endup with half-eaten jars of mild and medium salsa competing for...